A while ago, Ukrainian Association of Football had published the new national team shirts (sport jerseys in the flag colors: blue for the sky and yellow for the Earth) with Crimea included on the map on it for UEFA EURO 2020. My husband wanted one but could not find them anywhere.
So, yesterday night, he calls me from New York: There should be a package at the door.
I say, I signed for one a few hours ago with our awesomely special USPS postman.
He shouts: Open it!
I say: It is late, maybe it can wait till you are back?
He: No, open!
With the phone on my shoulder I tear the package in a dim light: Wow, a yellow Ukrainian shirt in a biodegradable package!
He: Is the Crimea on the map?
My strange self: There is no map anywhere on it!
He: Oh, no! It was the only place that have the map version of the shirt, only in XL, but I wanted to bike in it!
Weird me, still looking strait at the jersey: Oh, damn! At least it looks more like L or an M.
We chatted once again soon after, I was still oblivious of my mistake. He needed to sleep, so I spent hours before telling him what I have discovered next.
Alone, in a proper light, I saw the map with Crimea! What I probably mistook as folds of the textile, was a contour of Ukraine in a darker yellow shade! Maybe I had expected the map to be blue or flat, I cannot explain to myself how I could miss the map after I had already seen the outline.
I took pictures next day in a bright daylight and still needed to enhance the images to show you the front of the shirt: the lower separate part of the outline is the Crimean peninsula on the Black Sea, one of my favorite places on Earth.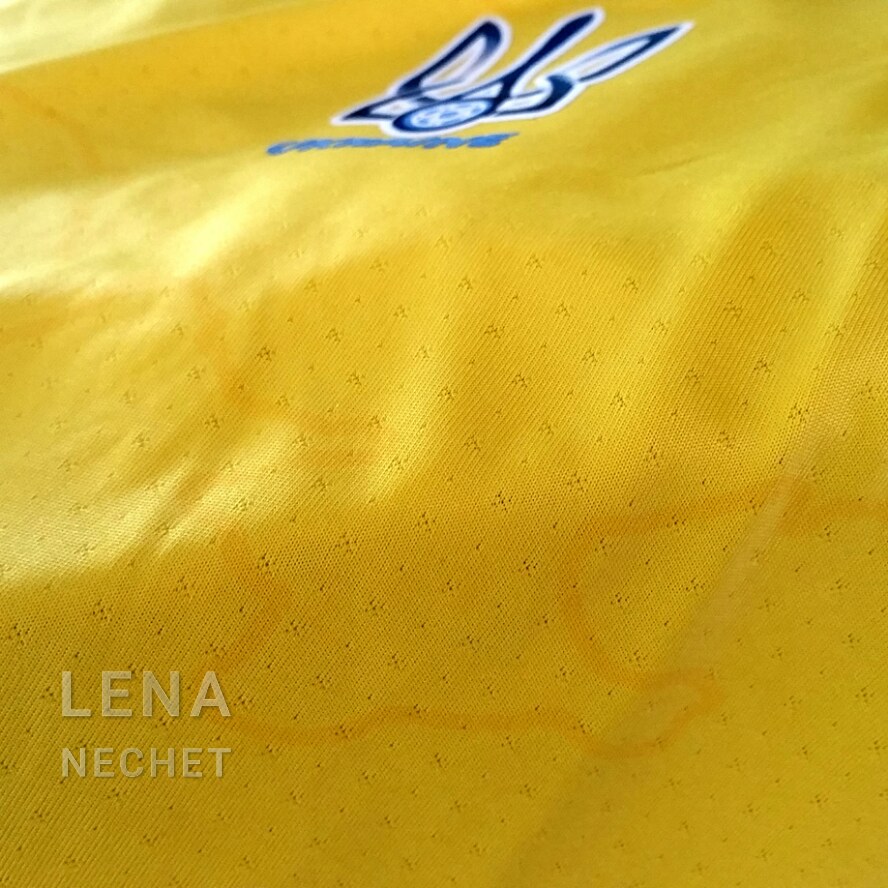 The writing on the shirt collar means "Glory to the heroes!" (Heroyam slava! = Героям слава!) and the design with map was approved by UEFA in December, 2020.
"Considering that the United Nations General Assembly Resolution 68/262, which was widely approved by the member states, recognizes the territorial borders as broadly depicted by the design, UEFA does not require any modifications of this design element as it meets the criteria laid out in article 12 of the UEFA Equipment Regulations."
I don't know what is wrong with me, how can I make such mistakes, especially lately.