Art Design
Elements and principles of art, color theory, swatches, visual communication, figure-ground perception, gestalt laws, perceptual organization, stamps, stencils, prints, posters, supergraphics, applied art pieces, content illustration, concepts expression, visualization, illustrative line work, book covers, interiors, visual plans and drafts, functional drawing, prototypes, graphic design, fashion design, needlework, decorative arts and crafts.
Design - an arrangement of elements or details in a work of art or a product, the creative art of executing aesthetic or functional visions.
Illustration - decoration, interpretation or visual explanation of a text, concept or process, designed for integration in print and digital published media.
Applied arts - design and decoration of practical objects to make them aesthetically pleasing.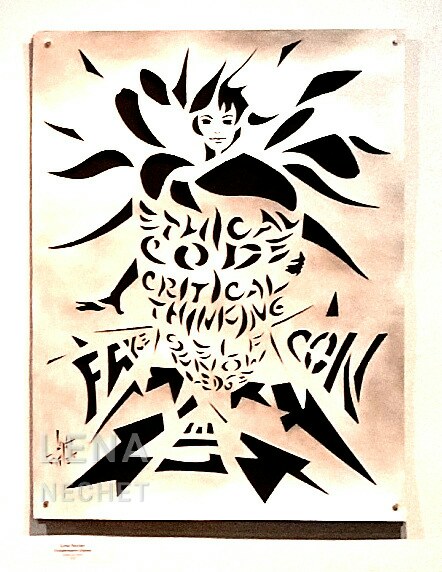 Poster paper cut - an example of poster of meaningful persuasion made bu cutting a paper board, underlaid with a contrasting black. It can be used as a stencil.
The shield is presented as a flower receptacle, held by a fairy (or an elf), whose one hand holds the shield, and another, right hand, is in a protective gesture. The fairy's hair is the flower petals. The shield with a writing in a leaf-like font deters sharp arrows of informational attacks.
This work offers to the viewer three main principles to defend yourself from disinformation and manipulation, represented with fake, con, and lie:
Ethical code - strong moral convictions.
Critical thinking - skills in forming a judgement by analyzing of available facts, observations, and arguments to form a judgment.
Self-knowledge - knowing your personality, psychology, and biology, paying attention to own mental states - self-awareness and self-consciousness.
Disinformation - false information deliberately and often covertly spread in order  to deceive people, a type of propaganda.

Author:

Lena Nechet